Council election results: Conservatives make gains in Tayside and Central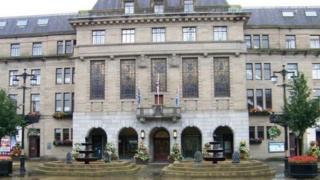 The SNP has lost its overall majority on Dundee City Council after gains from the Conservatives and the Liberal Democrats.
It had held a majority of three, but is still the biggest party on the council.
The SNP now has 14 seats on the council compared to the 15 seats now held by the other parties and an independent candidate.
The SNP lost six seats on Angus Council, with the Conservatives gaining five.
Labour lost its only seat on Angus Council.
There remains no party with an overall majority on Falkirk Council, which was previously run by a Labour/Conservative/independent coalition.
Labour lost lost five seats on the council while the Conservatives gained five.
Labour now has nine seats on the council and the Conservatives have seven - the SNP lost one of its 13 seats.
---
How the BBC calculates the 2017 result
By BBC Scotland political editor Brian Taylor
Let's talk numbers - there have been boundary changes which mean that some comparisons are made with "notional" outcomes in 2012, the last time these councils were contested.
On that count, the SNP are notionally down by a fractional seven seats. However, in terms of absolute numbers, the Nationalists have ended up with more councillors than in 2012.
Plus the SNP are the largest party in Scotland's four largest cities - including Glasgow, where jubilant supporters attended their ousting of Labour. They have waited decades for that.
---
The SNP has become the largest party in Clackmannanshire Council, with the Conservatives making gains at the expense of Labour.
The SNP retains eight seats on the council, with Labour losing three of its eight seats and the Conservatives increasing their share from one seat to five.
All five wards in the local government election were declared shortly before 11:30.
Turnout in the election was 46.2%.
A forthcoming meeting of the council will be held to form an administration and appoint office holders.
The SNP kept nine seats and Labour lost four as the Conservatives jumped to nine seats on Stirling Council, which had been a Labour/Conservative coalition.
The Tories gained five to draw level with the SNP in the election, which had a 53.3% turnout.
Labour dropped to four with the Greens keeping their seat.
In Perth and Kinross, the Conservatives gained seven seats and have taken over from the SNP as the biggest party on the council.
The Conservatives now have 17 councillors while the SNP, who had been the minority administration, dropped two to 15.
Labour dropped by three and the Lib Dems and independents lost one seat each.