Dead puppies found dumped in Dundee graveyard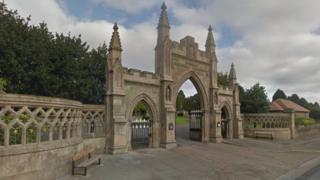 An animal welfare charity has appealed for information after 11 dead puppies were found dumped in a box in a Dundee graveyard.
The Scottish SPCA said a council worker made the discovery in Eastern Cemetery on Arbroath Road on Thursday.
The charity is awaiting the result of post-mortem examinations to discover the causes of death.
Scottish SPCA inspector Karen Cooper said the discovery of the dogs was a "particularly sad find".
She said: "Eleven puppies were disposed of in total and there are obvious questions around how they've come to be in this state.
"We're also concerned about the bitch's condition and whether she is receiving the appropriate veterinary care as this is an unusually large litter."