Man cleared of punching police horse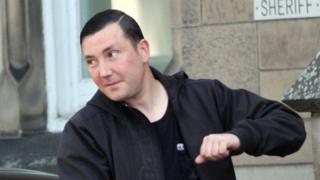 A man has been cleared of hitting a police horse after a court was told he was defending himself after the animal "snapped".
Gary Dornan had been accused of punching the horse, which was on routine patrol in Stirling.
Stirling Sheriff Court heard that he pushed the horse away after it nipped the sleeve of his jacket.
Dornan, 33, admitted using threatening and abusive behaviour after his arrest on 15 February.
His not guilty plea to committing a breach of the peace by shouting and swearing and punching the horse was accepted by prosecutors.
He was ordered to carry out 100 hours of unpaid work.
The court was told that the incident occurred after Dornan met friends in the city centre at lunchtime.
'Scared of horses'
Frazer McCready, defending, said Dornan had been drinking before the incident.
He said: "There were a couple of mounted police officers in the area.
"He is scared of horses and he tells me that he attempted to convey to the officers that he did not like such large beasts.
"The officers came towards his group, and he tells me the second of the horses came very close to him, and at some stage it snapped at him.
"He showed me later the damage to his jacket.
"He pushed the horse away, the horse having snapped at him. He was then arrested."
Depute fiscal Laura Knox said Dornan had threatened to kill the arresting officers, and used abusive language, some of it homophobic.
Speaking outside court, Dornan said: "The horse bit me. If it hadn't bitten me, this would never have happened."