'No welfare concerns' after owner of dead puppies traced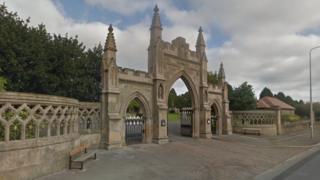 The owner of 11 dead puppies found in a box in a Dundee graveyard has been traced by the Scottish SPCA, the charity has confirmed.
It is understood the puppies were part of a litter of 16 and were buried beside the grave of a relative of the owner.
The charity said there were currently "no animal welfare concerns" after being contacted by the owner.
The puppies were found by a council worker in Eastern Cemetery on Thursday.
The charity is awaiting the result of post-mortem examinations to discover what caused the puppies' deaths.