Drunk vandal attacked procurator fiscal's office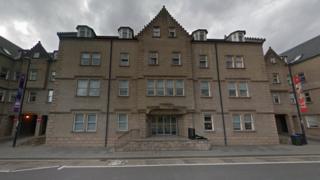 A man who drunkenly vandalised an office was unaware it belonged to the Crown Office and Procurator Fiscal Service, a court heard.
Thomas Toner left his DNA on a door at the prosecutor's office in Perth after spitting on it.
He kicked the main glass door, leaving a clear footprint, and smashed three windows in the office during the incident, which was caught on CCTV.
Toner, 24, was fined £1,200 after admitting the offences.
Perth Sheriff Court was told that Toner, of County Derry, Northern Ireland, caused more than £2,000 of damage.
Fiscal depute Lisa Marshall said: "The alarm went off and police attended and found the accused acting suspiciously at the nearby railway bridge.
"He ran off at high speed. He was caught and detained.
"He appeared under the influence of drink or drugs.
"There was saliva on the glass entry door and trainer prints on the door matched the accused's footwear."
Solicitor David Holmes, defending, said: "He did not know what a procurator fiscal was.
"It was not a deliberate attack and not the best idea in terms of security and police monitoring of the building."
Sheriff Gillian Wade said: "It was one of the most stupid places possible to try and break into.
"Your behaviour was reprehensible and clearly you were likely to get caught."