Man who drove towards children to avoid police jailed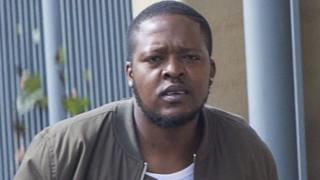 A man who drove along a path outside a school, causing pupils to run into the middle of the road to avoid being hit, has been jailed for 15 months.
Geoffrey Goto was trying to escape from police who had pulled him over on Dundee's Lawton Road in June last year.
The unlicensed and uninsured driver was spotted by an officer who was involved in an earlier incident with him.
A sheriff told the father-of-three that the level of his driving had been "atrocious."
The 31-year-old was also disqualified from driving for five years.
A jury at Dundee Sheriff Court had earlier found Goto guilty of 12 charges, including dangerous driving and police assault.
Mounted pavement
Almost six months earlier, he had driven off after being pulled over in Dundee for driving out of a parking area at speed with no lights on in the dark.
PC Sean Petrie, 25, told the trial that Goto's Ford Fiesta was subsequently spotted outside the then temporary base of Harris Academy.
The officer told the court that Goto mounted the pavement and drove for 300 yards, causing children to scatter.
John McLaughlin, defending, said: "He is suitable for unpaid work and the public would be protected in terms of the disqualification, which would be lengthy."
Sheriff George Way told Goto: "The two charges of dangerous driving were not only atrocious in the level, scale and persistence of the driving itself.
"But it cannot be lost on you that on both occasions the dangerous driving followed from a deliberate effort to escape from the police.
"I cannot accept that anything other than a custodial sentence will be appropriate in this case."