SNP and Labour agree coalition to run Stirling Council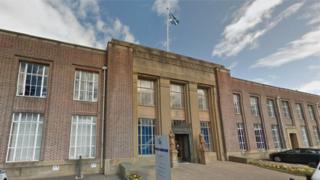 The SNP and Labour have agreed a coalition to run Stirling Council as a majority administration.
The parties announced the decision at a meeting of the new council on Wednesday evening.
Christine Simpson (Labour) was named as the new provost, and Graham Houston (SNP) as depute convener.
At the start of the meeting, a minute's silence was held to remember the victims of the Manchester terror attack.
The previous administration in Stirling was a Labour-Conservative coalition.
After the election on 4 May, both the SNP and Tories had 9 councillors, Labour 4 and there was one Scottish Green.
Last week two newly-elected Conservative councillors were suspended by the party over offensive posts made on Twitter.
Most of Scotland's 32 local authorities have now formed administrations, but a few are still to reach decisions.
It was announced earlier on Wednesday that the SNP would form a minority administration in East Dunbartonshire.
West Lothian and Edinburgh councils are due to hold meetings on Thursday, after both adjourned meetings last week.