Man spat in face of Spanish passer-by at Dundee bus stop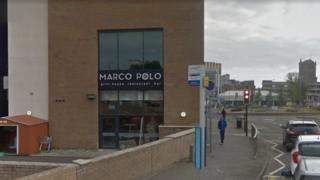 Police are appealing for witnesses after a man spat in the face of a Spaniard and subjected him to racist abuse.
The incident happened as the Spanish man passed a bus stop beside Marco Polo and Tesco in Hawkhill, Dundee, at about 19:10 on Saturday.
Police said he was spat at by a man standing with two other people at the bus stop.
The suspect was in his early 20s and was wearing a red top.
He was about 5ft 9in tall, of medium build with short, brown hair.
Police described the man's actions in the unprovoked assault as "particularly disgusting".
Officers urged anyone with information to contact police.