Killer Adam Gallagher 'too dangerous' to come to court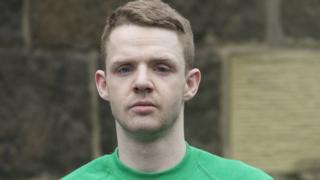 A killer considered to be too dangerous to appear in court has been sentenced over a live video link.
Adam Gallagher, who is serving a life sentence, had a concurrent sentence of 326 days imposed after he admitted damaging cells at Perth Prison.
Gallagher was jailed for life for the murder of a young Czech fruit picker in Arbroath 11 years ago.
The 29-year-old's video link appearance at Perth Sheriff Court is believed to be the first of its kind in Scotland.
Gallagher told the court he had only trashed the cells because he was irate at the Scottish Prison Service's failure to give him anger management classes.
After speaking briefly to confirm his identity and that he could hear proceedings from the courtroom, Gallagher said: "I have been asking for a programme within the prison establishment for the last seven years, with nothing coming to fruition."
'Short fuse'
Solicitor Kevin McCarron, defending, said: "Other than drawing attention to himself and publicising his plight within the SPS, there is no rhyme nor reason to it.
"He has got a particularly short fuse. He hasn't been able to access course work. It can fairly be said he has been a difficult prisoner for the SPS to manage. His record reflects that.
"He has anger management issues and longstanding issues with the SPS in relation to his programme needs. He has been trying to get onto an anger management course to deal with that."
Fiscal depute John Malpass told the court that Gallagher caused £2,240 of damage to a cell in April last year and £1,907 of damage to another two months later.
His colleague, Nicola Gillespie, previously told the court: "The accused is serving a life sentence and is considered to be extremely dangerous. He poses a clear risk to the normal operation of the court."
Gallagher admitted wilfully or recklessly destroying cells at maximum security Perth Prison, including a segregation unit, on 21 April and 13 June 2016.
Baby oil
He trashed light fittings, wall sockets, a spy glass and fixed furniture during the sprees while he was serving a minimum 15-year sentence for murder.
Gallagher has a long history of disruptive behaviour since being jailed for the murder of Marek Smrz in 2006.
He has been convicted of nine separate prison-based offences - including assault, vandalism and setting fire to cells. He is about to move to HMP Glenochil.
Last year, Perth Sheriff Court heard how Gallagher had slathered himself in baby oil to stop riot staff getting hold of him to transfer him to another jail.
He stripped to his boxer shorts and covered himself in oil so he was too slippery for the officers to catch. He "rolled about" with G4S staff during the fracas and one of the security team moving him was so frightened he fainted.