First Minister's mosque visit 'mark of solidarity'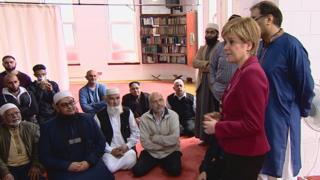 The First Minister has visited a Dundee mosque as a "mark of solidarity" with the Muslim community following recent terrorist attacks in the UK.
Nicola Sturgeon told Dundee Central Mosque it was important to "stand united" during "very anxious times".
Ms Sturgeon visited the mosque after announcing a £16.5m investment in Michelin's Dundee factory.
During her visit to the mosque Ms Sturgeon was told of local Muslim community projects.
She told worshippers: "We're living through some very anxious times.
"While we are all anxious about some of the incidents we've seen and experienced in recent times, it often strikes me that that anxiety is often felt particularly by our Muslim community."
Ms Sturgeon said terrorism was "designed to divide us".
She said: "I think when terrorists are trying to do that, it is really important that we stand united as a community and that's why I wanted to visit here today."
Dundee Islamic Society Chairman Bashir Chohan said: "We were happy to have the First Minister in our mosque.
"Her opinion was one endorsed 100%, it definitely helps the situation."