Rescued hedgehogs take on famous Scots' names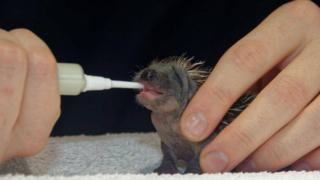 An animal rescue charity has solved the prickly problem of what to call more than 1,000 hedgehogs it will care for this year.
The Scottish SPCA has announced that the mammals will be named after famous Scots.
The charity is currently caring for ten hoglets at its national wildlife rescue centre in Fishcross.
These include week-old hoglet Wallace, who is being rehabilitated alongside siblings William, Bruce and Hamish.
Wallace is being hand-reared by a wildlife assistant at the centre.
Centre manager Colin Seddon said: "Wallace came to us as a one of a group of four siblings from Perth and we expect him to be fully independent and self-feeding at around six or seven weeks old.
"We look after hoglets from all over Scotland.
"Often it's a case of their nests being disturbed, or sometimes they have been dropped when being moved by their parent.
"As we expect to treat so many hoglets, we choose a naming theme every year."