Taxi driver charged after pedestrian collision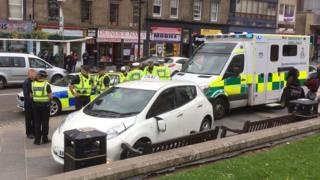 A 25-year-old taxi driver has been charged with careless driving after a pedestrian was struck in Dundee city centre.
The white Nissan Leaf taxi mounted the pavement at the Nethergate taxi rank at 18:10 on Thursday causing pedestrians to take evasive action.
A 26-year-old man was taken to Dundee's Ninewells Hospital after suffering minor injuries.
Police have appealed for witnesses to the incident to come forward.
It is understood the injured man had graduated from Dundee University earlier and was walking with friends and family at the time of the collision.