Man who threatened Tommy Sheppard mistook him for Tommy Sheridan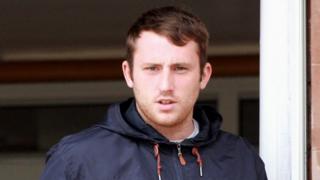 A man who posted gun icons on SNP MP Tommy Sheppard's Facebook page thought he was targeting socialist politician Tommy Sheridan, a court heard.
Glen Scobbie left pistol emojis underneath a video posted by the Edinburgh East MP three months after the murder of Labour MP Jo Cox.
Mr Sheppard was "concerned" about the post and reported the matter to police.
Scobbie, 26, of Falkirk was fined £280 after admitting posting the emojis and a threatening remark.
Michael Maguire, prosecuting, told Falkirk Sheriff Court the video had been shared by a friend of Scobbie's, and Scobbie had posted "shoot the bastert".
Mr Maguire said: "This text was followed by two emoticon images of a handgun.
"The post was public and available for other Facebook users to view."
Mr Maguire told the court that when police asked Scobbie if he knew Tommy Sheppard, he replied: "It was a Tommy Sheridan post, I thought".
Representing himself in court, Scobbie said: "It was meant to be a joke between me and my pal. I didn't think anybody else would see it.
"I lost my job as a binman with Falkirk Council because of it."
Scobbie told Sheriff Derek Livingston that police had mentioned Mrs Cox's murder, but he claimed he was unaware of it at the time of the offence.
Sheriff Livingston told Scobbie: "It sounds actually from what the prosecutor said that your political knowledge is such that you confused Tommy Sheridan and Tommy Sheppard.
"But politicians are entitled to go about their daily work without being subjected to this sort of nonsense.
"I accept it was more stupidity than anything intended, but it clearly did cause alarm."