Police hunt Broughty Ferry railway bridge flasher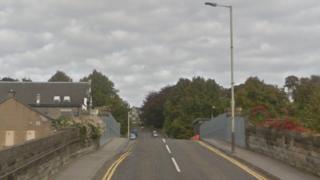 Police are appealing for information after a man indecently exposed himself on a railway bridge in Broughty Ferry.
The man spoke to two girls, both aged about 10, who were on bikes during the incident, which took place on the Fort Street bridge at 21:15 on Monday.
Police said the girls seemed shocked at the man's behaviour and rode off.
The man was described as aged about 70, about 5ft 10in tall, of slight build. He wore a green baseball cap, a blue bomber jacket and green trousers.
He was carrying a blue plastic bag at the time of the incident.