Castle Huntly absconder jailed for armed raids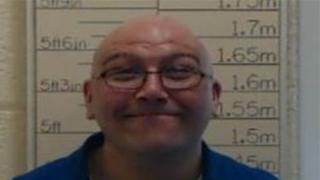 A man who carried out a series of armed raids after absconding from HMP Castle Huntly has been jailed for 12 years.
Mark Chung and an accomplice used a gun, knives and a screwdriver to threaten staff and customers at shops in Glasgow.
A court heard Chung, 42, and Benjamin Kinnaird, 55, struck three times in the space of a week.
A judge at the High Court in Edinburgh told Chung his criminal record was one of the worst he had encountered.
Lord Arthurson jailed Kinnaird for nine years and told him: "These offences involved a significant level of planning."
The judge said the crimes must have been "truly terrifying" for employees and customers who were caught up in the armed robberies.
Chung absconded from the prison near Dundee last October, a month before the first raid.
Threatened violence
Chung and Kinnaird first targeted a Scotmid store in Auchinairn Road, Glasgow, in a masked raid on 3 November last year.
They assaulted three staff members and a customer, who was pushed during the £3,200 robbery.
The men were armed with a gun and screwdriver and threatened violence and demanded money.
One employee was seized and the firearm was pointed at him and a demand made that he take the men to a safe.
Chung and Kinnaird also carried out raids at One O One off-licence in Paisley Road West and a Spar shop and post office in Maryhill Road.
Defence solicitor advocate Robert Mitchell, for Chung, said: "Plainly there have problems in his life with drugs.
"It was particularly tragic for him because during the last sentence he was serving he rather rapidly progressed to open conditions."
Kinnaird's defence counsel, Mark Moir said: "He recognises that these offences would have a devastating effect on the victims but maintains his position that he was not involved in them."