'Amazing' response to university's leg amputee study appeal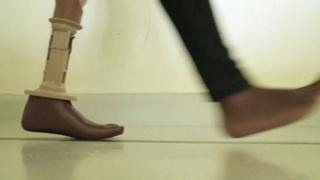 A Dundee University appeal for leg amputees for a study aimed at improving prosthetics has been "inundated" with volunteers.
The project uses software to check the distribution of force during everyday activity on prosthetics fitted under the knee.
PhD student Giulia Zedda said her study aims to find out if the patients are using the correct prosthesis.
Ms Zedda said the appeal for volunteers had had an "amazing response".
She said the university had enough patients to compete the study within two hours of the appeal being issued.
'Really grateful'
Ms Zedda said: "I'm still continuing to get requests, but now unfortunately I've reached my quota.
"I'm really grateful to all those who have got in contact.
"Without the help of patients we wouldn't be able to carry out this sort of research.
"The people who will be part of the study have already told me they're excited to get started."
The study asked for people with a prosthetic leg fitting under the knee who are able to walk unaided.
Participants will have an hour of testing, during which they will walk 10m (33ft) at normal speed over the course of the session.