Murderer had prohibited phone charger in cell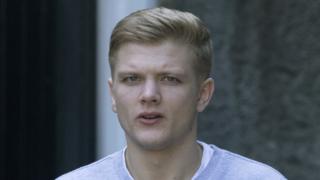 A convicted murderer has appeared in court after admitting having a prohibited phone charger in his cell.
A court heard that mobile phone detectors in Perth Prison picked up "regular activity" from a cell occupied by Matthew Pope.
Pope, 25, was jailed for life in 2014 for the murder of Michael Given in Dundee.
He was given a six-month jail term to run alongside his current sentence for the new offence.
Pope, who will not be freed until at least 2032, admitted having a prohibited item within Perth Prison on 7 August last year.
'High readings'
Depute fiscal Nicola Gillespie told Perth Sheriff Court: "Officers were aware there were high readings on a mobile phone detector on a regular basis so the cell was searched.
"The accused was there with another prisoner. They were asked if there was anything in the cell which shouldn't be and they both said no.
"The charger was found in the cell and the accused said it was his."
Solicitor Anne Duffy, defending, said Pope's cellmate ran off during the search and was found trying to hide a phone by flushing it down the toilet.
Last year Pope was attacked inside Perth Prison and left scarred for life by another inmate in a row over the prison gym.