Cocaine dealer caught by faulty headlight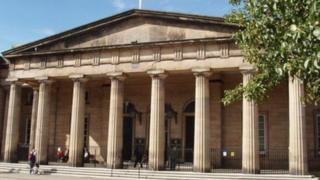 A drug dealer caught with almost £1,000 of cocaine in his car after police pulled him over for a faulty headlight has been jailed for six months.
A court heard that David Crammond, 28, kept the drugs and drug paraphernalia in his car as he lived at home and did not want his mother to find out.
Text messages found on his phone confirmed he was supplying the drug.
He admitted being concerned in the supply of cocaine at Broxden in Perth on 22 January.
Depute fiscal Carol Whyte told Perth Sheriff Court: "Police officers stopped the vehicle the accused was driving because of a faulty lamp.
"They thought they could smell cannabis so they detained the accused.
"During a search of the vehicle 30 snap bags, scales, a bag of white powder and a mobile phone were recovered."
Solicitor Paul Ralph, defending, said: "It is his position that he is the one who gets it and his pals are then benefiting from it at weekend get togethers.
"He has confessed to his parents.
"He understands the position he has put himself in and he has hopefully learned his lesson."