New glassblowing studio will 'keep the tradition alive'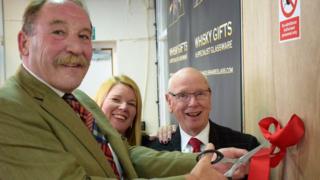 A family firm has opened a state-of-the-art glassmaking studio in Stirling following a crowdfunding appeal.
The Angels' Share Glass studio was officially opened by whisky expert and author Charles McLean.
The Bridge of Allan company hopes to increase production and train a new generation of glassblowers.
Co-founder Tom Young, who has made glass by hand using traditional methods for nearly 60 years, previously worked out of a home workshop.
Mr Young, who founded the company with his daughter Karen Somerville, recently received an MBE for his services to glassmaking.
The firm launched a crowdfunding campaign which raised £11,000 and received extra funding from the Scottish Microfinance Fund.
Guests at the studio's launch were given a demonstration by the firm's glassmaker Bee Hardy.
Bailie Chris Kane, who represented the Stirling Lord Provost's office, said: "It is testament to Tom and his daughter Karen that their creativity and business acumen has taken the journey from Tom's garden shed to a purpose-built studio in just four years."
Mr Young said: "Having a new studio with more space for staff to work in means a lot to me.
"It will be a great advantage when it comes to passing glassblowing skills onto a new generation of young glassmakers and making sure we keep the tradition alive."