Former employee admits £1m Dundee council fraud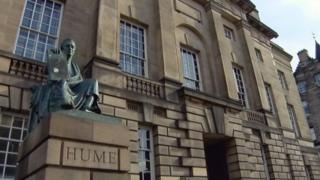 A former Dundee City Council IT officer has admitted stealing more than £1m from the authority in a seven-year-long fraud.
Mark Conway first diverted public money to his own accounts after running up debts on gambling websites.
Conway, 52, defrauded the council of £1,065,085 between August 2009 and May last year.
The High Court in Edinburgh was told that only £7,337 of the money had been recovered.
Conway, of Brechin, was remanded in custody ahead of sentencing at the High Court in Glasgow on 24 August.
Judge Graeme Buchanan QC told him: "This is a very serious matter indeed.
"Your counsel, and no doubt you yourself, recognise realistically there is really only one possible disposal."
'Unrestricted access'
The court was told Conway made entries in the local authority's computer system pretending to represent sums due to genuine suppliers to the council, but had the money paid into his bank and building society accounts.
Advocate depute Rosemary Guinnane said: "He was an IT officer specialising in financial IT systems and was regarded as the council's primary specialist in these systems."
The prosecutor said Conway had "unrestricted access" to financial computer systems used for recording invoices from suppliers and processing payments.
She said: "During 2009 the accused had become indebted due to his use of online gambling websites.
"In an effort to obtain further funds to pay off a credit card bill, on or about 6 August the accused created an entry to reflect a legitimate sum invoiced by Scottish Fuels which was due to be paid by the council."
She said the entry appeared no different from any other relating to the firm, which supplied fuel to the council, and a legitimate recipient of funds from the local authority.
However, the entry contained the account details of Conway's Nationwide building society account rather than that of Scottish Fuels.
'Legitimate payments'
Conway went on to make further entries which were paid by council officials who believed they were making legitimate payments .
The advocate depute said: "During the period August 2009 to May 2016, the accused's actions went undetected by the council's audit procedures."
In May last year, an employee became aware of a £7,337 payment to a building firm and thought it was unusual that it was made to a Nationwide building society account.
On May 25 last year, Conway created a further Scottish Fuels invoice but with his Santander bank account details.
The same day, the council's head of customer service and IT, Gregory Colgan, was made aware of the discrepancy.
Senior officials then decided to suspend Conway on full pay.
The advocate depute said auditors were called in to identify how funds had been diverted to Conway's accounts.
She said: "They also identified various weaknesses in the council's accounting practices that allowed the fraud to remain undetected for so long."
A Dundee City Council spokesman said: "The council is aware of the plea that has been tendered in this case.
"This individual is no longer employed by Dundee City Council.
"We will be issuing a statement when legal proceedings have concluded."