Student blackmailed girls into making sexually explicit videos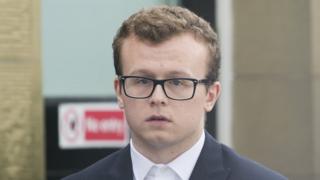 A student who blackmailed children into making sexually explicit videos has been remanded in custody.
Glen Wilson, 18, persuaded girls as young as 12 to send him images and films, which he offered to share with fellow paedophiles.
Perth Sheriff Court was told one of the children had been left "suicidal".
Wilson, of Longforgan, Perthshire, admitted 23 charges of extortion and possessing child abuse material between September 2015 and June last year .
He will be sentenced on 13 September.
The court heard that Wilson targeted victims from as far afield as London, Wales, Sheffield, Derby, Edinburgh and Glasgow.
'Comply with requests'
Depute fiscal John Malpass told the court that Wilson found girls aged between 12 and 15 who were willing to start chatting with him on social media sites.
He said Wilson would then persuade the girls to send pictures of themselves in various states of undress.
He then sent them back a screenshot with their contacts and told them he would send the picture of them to their friends and family if they did not comply with his requests.
Mr Malpass said the girls were scared of being exposed to family and complied with Wilson's demands.
Referring to one of the victims, the prosecutor said: "She stated he was making her feel suicidal, but he reminded her of his threat and continued to pressure her into sending further videos."
Threatening messages
Mr Malpass said Wilson had told victims: "You have two options. You either do what I ask or I send.
"Block me, delete me, report me, tell your parents - do any of these things and I press the send button.
"Everyone you know will see everything and your friends and family will think of you as a slut."
He told another child: "I don't want to ruin your life, but I will if you make me."
A search of devices at Wilson's home showed he had made videos available on Skype and had sent 450 threatening messages to victims.
Sheriff Gillian Wade remanded Wilson in custody and expressed concern that the case had not been prosecuted at High Court level.