Man tipped double amputee out of wheelchair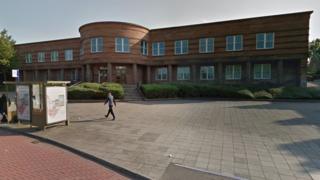 A man who tipped a double amputee out of his wheelchair in Falkirk town centre has been jailed for four months.
A court heard Robert Williamson grabbed the handles of William Lowden's wheelchair and pushed it "violently to one side".
Williamson claimed the 44-year-old had subjected him to homophobic abuse.
The 27-year-old, of Bonnybridge, Stirlingshire, admitted a charge of assault on 3 August at Falkirk Sheriff Court.
The court was told the incident was captured on CCTV.
Police arrived at the scene to find Mr Lowden lying on the ground with a cut on his head.
Defence agent Murray Aitken said Williamson had been "institutionalised" and had spent almost his entire adult life in prison, before being released in January.
Mr Aitken said Williamson had been in the town centre with his partner and others before becoming involved in an altercation with Mr Lowden.
He said: "It is his position that Mr Lowden had seen him embracing his partner and had been calling him derogatory, homophobic names.
"He refused to desist and ultimately my client lost his temper and tipped him out of his wheelchair onto the ground."
Sheriff Derek Livingston told Williamson: "You pushed a double amputee out his wheelchair and, however much provocation, that's simply inexcusable."