High-risk sex offender attacked teenage girl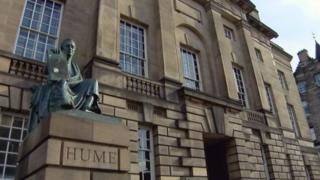 A high-risk sex offender who breached a court order and attacked a schoolgirl has been jailed for four years.
Andrew Angus grabbed the 14-year-old, pinned her against a wall and put his hands on her neck during the sexual assault in Falkirk.
Angus, 46, was the subject of an order banning him from contacting women under 18 without the prior consent of an offender management unit.
He previously admitted the assault and breaching the court order on 9 April.
Sheriff John Mundy sent the case to the High Court in Edinburgh as he believed the offence may have warranted an Order for Lifelong Restriction (OLR).
'Serious offence'
A judge sets a minimum jail sentence when imposing an ORL but an offender is only ever released if parole authorities are satisfied on public safety issues.
Angus' counsel Shelagh McCall argued against the imposition of an OLR, saying: "His first offence wasn't committed until he was 43 years of age."
She said Angus had begun to address his alcohol problem and he was preparing to undertake sex offender group work as part of a court order.
Judge Lord Glennie said the sheriff had been right to take the view that the case should be sent to the High Court, but he was persuaded that he did not need to impose an OLR.
He told Angus: "I think you recognise this was a very serious offence.
"This was a sexual assault on a 14-year-old girl when you were already the subject of a sexual offences prevention order."
Angus was also ordered to be supervised for three years following his release from prison and placed on the sex offenders register indefinitely.