Police question 100 people on missing Anthony Kelbie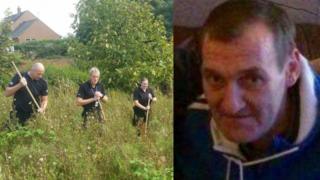 Police officers have spoken to more than 100 people in a fresh effort to trace a missing man.
Anthony Kelbie, 48, was last seen in the Nursery Park area of Brechin between 20:00 and 22:00 on Saturday 20 August.
One week on from that sighting, officers were in the area seeking information.
Mr Kelbie, who is from Dundee, was seen with head injuries and police said they were "increasingly concerned".
Sgt Victoria Crichton said: "It is crucial we keep Anthony's details and image in the public domain one week on as we rely on information from the public to help us find missing people.
"Our officers revisited the last place Anthony was seen last night to speak to members of the public who regularly visit the area and to hopefully jog anyone's memory who may have been there last week and could have potentially seen him.
"Numerous people were able to assist and I would like to sincerely thank them for their help."
Head injuries
When last seen, Mr Kelbie was wearing a blue Superdry jacket, blue jeans and white shoes. He had "noticeable" cuts to the side of his head and a lump and cut on his forehead.
Sgt Crichton added: "It has been one week since Anthony was last seen and as more time passes we become increasingly concerned for him - it is out of character for him not to be in touch with his family and friends for so long, and we need to make sure he is safe and well.
"We continue to appeal to Anthony to get in touch with police and let us know he is OK. Your family are worried about you and want to know you have come to no harm."
Members of the public who think they may be able to help have been asked to call police on 101.