Dundee prepares for oil and gas decommissioning work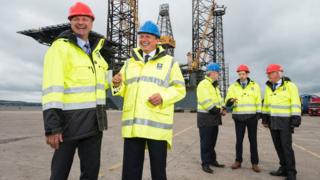 Dundee's attempts to become an oil and gas industry decommissioning hub have moved a step closer.
A draft agreement has been signed between Forth Ports and a major contractor AF Offshore Decom to prepare for future work.
A new joint venture AF Dundee will be formed, with the aim of attracting decommissioning work and jobs.
Forth Ports is currently spending £10m extending a quay to handle large loads that would be involved in such work.
The firms believe the port's location - close to many UK North Sea oil and gas assets, rail and road links - leave it well placed to benefit from the decommissioning of ageing platforms and equipment.
The deal was brokered by Dundeecom, the public/private partnership between Dundee City Council, DC Thomson and Forth Ports.
'Safe and cost efficient'
Charles Hammond, chief executive of Forth Ports, said: "This is great news for the city, for the local economy and for the port.
"Our vision is to position Dundee as a major decommissioning centre for the North Sea and to ensure that customers gain access to an efficient, cost effective decommissioning solution.
"Partnering with such an established and respected organisation as AF Offshore UK will certainly enable this vision."
AF Offshore, a subsidiary of AF Gruppen, has more than 15 years of operational experience in the sector and operates the AF Environmental Base Vats in Norway.
Bengt Hildisch, president of AF Offshore Decom, said the two companies shared the same vision of a "safe and cost efficient disposal yard in the UK."
He added: "We have been seeking the right opportunity that enables us to build and expand our capabilities to the UK and create a sustainable, solution together with our facility in Norway, for the whole of the North Sea."