Man jailed for driver abduction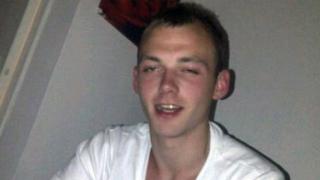 A man who abducted a driver, forcing him to jump from a moving car to escape, has been jailed for four years.
Garry Kelly, 27, threatened to stab James Horne in the eye with a screwdriver if he didn't drive to a forest track.
Mr Horne had earlier bought cigarettes and alcohol for Kelly from a shop after he told him he did not have ID.
A court heard that Kelly drank a bottle of Buckfast and took valium before the incident on 13 April.
Sheriff William Gilchrist also imposed a two-year extended sentence following Kelly's release, which would see him returned to jail if he reoffends.
Stab threat
Kelly, of Alva, Clackmannanshire, had admitted charges of assault, robbery, and abduction.
The court was previously told that Kelly approached his victim, who he had never met before, outside a shop in Larbert.
Mr Horne agreed to buy the items, but when he returned, Kelly told him he had no cash and offered Mr Horne £20 to drive him to Alva to get money.
During the journey, Kelly told Mr Horne to stop, before pulling out a screwdriver he had found in the passenger door compartment.
He then told Mr Horne: "Give me all your money or I'll stab you in the eye."
He continued to threaten Mr Horne before telling him to drive to the secluded woodland track.
'Incredibly frightened'
Prosecutor Sarah Lumsden said: "As Mr Horne turned up the track he was incredibly frightened and thought that Kelly would kill him.
"He did a U-turn, took off his seat belt, accelerated to about 40mph, opened his door, and jumped out of the moving car, rolling as he hit the ground."
Claire McCarron, defending, said Kelly was "upset" after visiting a patient in the Forth Valley Royal Hospital in Larbert.
Ms McCarron said: "He was without finance and has resorted to the use of violence as he does whenever he finds he wants something."
She said there was "no doubt" that Kelly continued to present a high risk of re-offending and a danger to the public.
Sheriff Gilchrist told Kelly: "This was obviously a very serious charge.
"The victim was so terrified that he jumped out of a moving car.
"A custodial sentence is inevitable."