Royal Marines deny nightclub sex acts allegation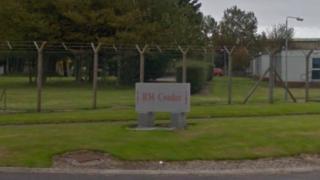 Seven Royal Marines will stand trial over allegations they drank each other's urine and committed sex acts in a nightclub.
Jordan Coia, Ben James, Michael Byrne, Ryan Fowler, Luke Bowen, Jacob Holt and Craig Lynch face a charge of public indecency.
The incident is alleged to have taken place at DeVito's in Arbroath.
All seven men, who are aged between 21 and 42 and are based at RM Condor in Arbroath, deny the charge.
It is alleged they exposed themselves, urinated in public, drank each other's urine, smacked each other's bare buttocks and committed graphic sex acts in the smoking area of the club.
The case against the seven men was continued until 19 September at Forfar Sheriff Court.
A Royal Navy spokeswoman said: "While legal proceedings continue, it would be inappropriate to comment further."