Body in bins murderer Steven Jackson loses appeal against conviction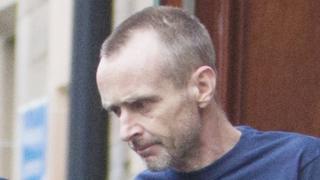 A murderer who dismembered a mother of three and hid her body parts in bins has lost an appeal to have his conviction quashed.
Steven Jackson, 41, battered and stabbed former partner Kimberley MacKenzie at a flat in Montrose before cutting up her body in a bathtub.
He was jailed for a minimum of 26 years at the High Court in January.
Jackson instructed lawyers to argue that he was the victim of a miscarriage of justice.
Defence advocate Donald Findlay QC told judges at the Court of Criminal Appeal in Edinburgh that his client's conviction was unsafe.
Mr Findlay told the court that a witness at Jackson's trial had given evidence against him which was irrelevant to the proceedings.
The lawyer told the court that despite the evidence being irrelevant, it could have prejudiced jurors against Jackson.
This was because the evidence may have portrayed Jackson as being somebody who was likely to commit crime.
Irrelevant evidence
Mr Findlay told the appeal judges that the law required Lady Rae, the judge who presided over the trial, to stop the trial.
Prosecution lawyer Ashley Edwards QC argued that Lady Rae acted correctly.
The court heard that the judge told jurors to disregard the irrelevant evidence given by the witness.
The judges agreed with the submissions made by Ms Edwards and refused the appeal.
Jackson's trial heard that Ms MacKenzie, 37, sustained at least 11 blows to the head and was stabbed more than 40 times.
The trial was told Jackson targeted Kimberley MacKenzie in a frenzied attack with two knives, a hammer and a large paint scraper on 27 October last year.
Co-accused Michelle Higgins, 29, was jailed for eight years for helping to dispose of Ms MacKenzie's remains.