'Iron Broo' tablet recall over metal fear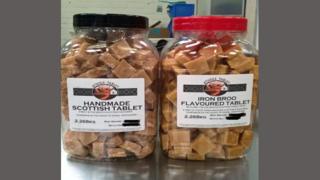 A sweet manufacturer has withdrawn its "Iron Broo" flavour tablet from sale - because the product may contain pieces of metal.
Athole Tablet Ltd, which is based in Blairgowrie, has also withdrawn its Scots Tablet sweet from sale for the same reason.
A recall notice for the products was issued by Food Standards Scotland.
The agency said customers who had bought the tablet should not eat them but return them for a full refund.
The recall only applies to certain batch numbers of the sweets, detailed in Food Standards Scotland's recall notice.
In the notice, the company apologised for the inconvenience and advised customers to check batch numbers and return the products if necessary because of a "production issue".
Athole Tablet products affected
Scots Tablet - Pack size: 2.268Kg Jar - Best before date: 19/2/18 - 24/2/18
Iron Broo Tablet - Pack size: 2.268Kg Jars - Best before date: 22/2/18 - 25/2/18
Source: Food Standards Scotland
Food Standards Scotland said: "If you have bought any of the above products do not eat it. Instead, return it to the store from where it was bought for a full refund."
Other batches of the products - and other sweets made by Athole Tablet - are not affected by the recall notice.
The company says on its website that it makes "handmade Scottish tablet" drawing on 25 years' of experience and using traditional based recipes and methods.