Police probe into charity cycling event 'sabotage'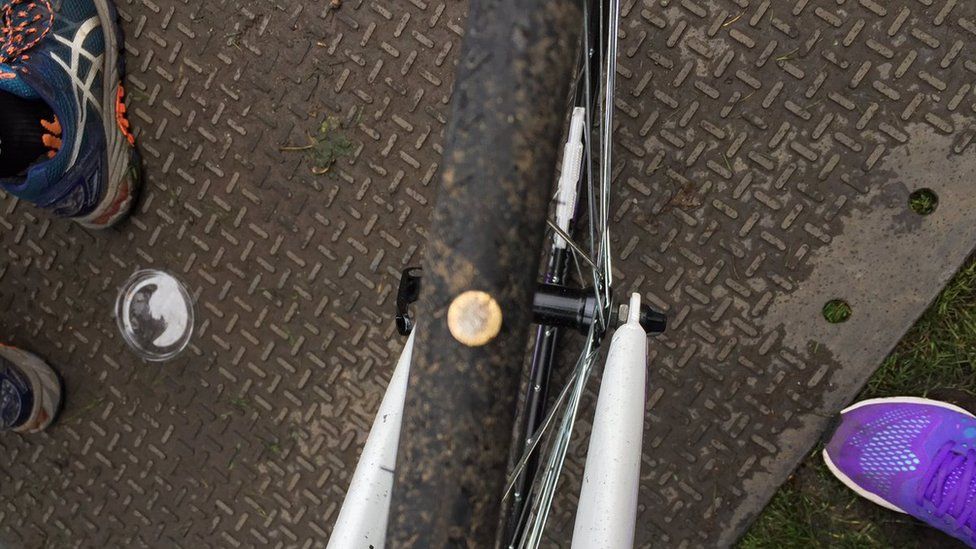 Hundreds of riders had their tyres burst in what was believed to be an attempt to sabotage Scotland's biggest cycling event.
Police are investigating reports of tyres being punctured during the Pedal for Scotland charity event between Edinburgh and Glasgow on Sunday.
Metal tacks were found at the Falkirk village of Whitecross.
Officers said they had also been made aware of a similar incident in and around Linlithgow.
Almost 8,000 people took part in the event, with Transport Minister Humza Yousaf waving off competitors at the starting line.
Shona Mitchell posted a picture on Twitter showing her front tyre studded by a tack.
She wrote: "Fun spoiled. Hundreds of us with flat tyres, thanks to sabotage with tacks."
Another Twitter user called "Buttons and Robin" wrote: "My ride was cut short due to a tack. Some riders had two or three in their tyres.
"Mechanics (heroes) couldn't keep up. Was a damn shame not to ride those last 10 miles."
A Cycling Scotland spokesman said: "We regret that the action of an idiotic individual or group of people has caused problems for event participants and risked serious injury to people.
"It has also slowed us down in opening the roads again.
"The operational team helped remove the tacks as soon as they were reported."
A Police Scotland spokeswoman said: "The matter was reported to police around 13:10 on Sunday on Station Road.
"A number of bikes were damaged, however no cyclists were injured.
"There were also reports of tacks being placed on the road in and around Linlithgow."
The Pedal for Scotland event in 2015 also saw tacks and nails placed on the route, with about 50 riders sustaining punctured tyres.
Related Internet Links
The BBC is not responsible for the content of external sites.