Nurses ordered to pay private parking charges at hospital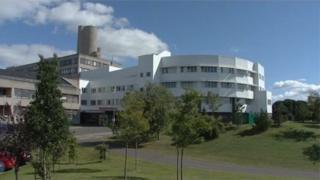 Three nurses have been ordered to pay more than £4,000 in charges to the parking operators at Dundee's Ninewells Hospital.
Indigo Park Services UK Ltd launched a civil action at Dundee Sheriff Court after claiming the nurses parked without valid tickets.
The three nurses claimed the charges were unreasonable and signs stating the terms of the charges were unclear.
Sheriff Lorna Drummond QC ruled in the parking company's favour.
The company issued eight £40 charges to nurse Conor Watson and had pursued this amount as well as eight recovery charges of £96 each.
Awarding the company £1,088 Sheriff Drummond said: "The costs charged are commensurate with market rates and attributable to work done at each stage of debt collection.
"The respondent was given repeated opportunities to pay the parking charges and persistently refused to do so."
Sheriff Drummond also ruled in favour of the company against clinical nurse Julie Lindsay, who was ordered to pay £2,040 plus expenses, and paediatric nurse Nicola Meachan who was told to pay the firm £952.
Hospital car parking fees were abolished in Scotland in 2008.
However, Ninewells, Glasgow Royal Infirmary and the Royal Infirmary of Edinburgh still charge as they are signed up to private contracts to manage their parking facilities.