New social security agency to create 1,500 jobs in Dundee and Glasgow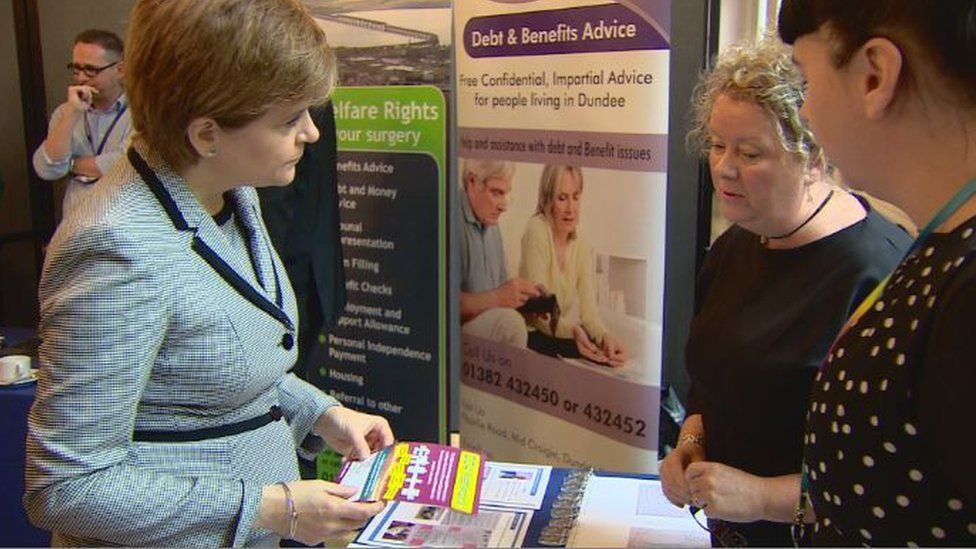 Scotland's new social security agency will have its headquarters in Dundee, the first minister has confirmed.
Nicola Sturgeon said the new agency will also have a site in Glasgow, with 1,500 jobs split evenly between the cities.
The first minister made the announcement as she met social security stakeholders in Dundee.
These include disability living allowance, personal independence payments, carer's allowances and winter fuel payments.
The new agency is expected to be fully operational by 2021.
Ms Sturgeon said: "Having powers over newly devolved benefits presents an exciting opportunity to create a social security system for Scotland that is fairer and based on dignity and respect.
"I'm delighted to confirm that Dundee and Glasgow will be the locations of the new social security agency.
"Establishing headquarters in Dundee demonstrates our support for the city's ongoing regeneration.
"Having two sites will ensure that economic benefit is spread between the east and west of Scotland and across the cities' neighbouring areas."
No details have been announced about the locations of the new sites.
The Scottish government said the new agency will provide face-to-face support and centralised administrative functions.
Dundee City Council leader John Alexander said: "This is an exciting announcement and major vote of confidence in Dundee by the Scottish government.
"The agency will bring with it several hundred new jobs and will provide a notable boost for the local economy generally."
Glasgow City Council leader Susan Aitken said: "The new social security agency will benefit the whole of Scotland, but it's great news it will have such a direct benefit to the people of Glasgow, and I want to congratulate Dundee on hosting the headquarters.
"Glasgow sits at the heart of a city region and, working with colleagues from other local authorities, we will ensure that the agency has the right staff and that people who would most benefit are job-ready and able to take up these opportunities."
Related Internet Links
The BBC is not responsible for the content of external sites.