Police criticised over death of David Penman in van near Dunipace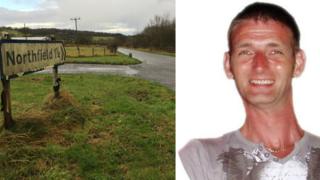 Police Scotland has been criticised after a man was found dead in a van two days after the force was first alerted to the abandoned vehicle.
The police watchdog said more should have been done by the officer who received calls about the van, which was parked in a lay-by near Dunipace.
David Penman's body was found by officers on a separate investigation.
Police Scotland said staff have received updated guidance on dealing with abandoned vehicles.
The report by the Police Investigations and Review Commissioner (Pirc) is the latest probe into problems at the Bilston Glen control room near Edinburgh.
It was at the centre of the M9 scandal in July 2015, when two people died after police failed to send officers to the scene for three days.
The latest Pirc report found that two members of the public contacted Police Scotland with concerns that Mr Penman's works van had been abandoned.
Carbon monoxide poisoning
The police officer who took both calls found the van had a current MOT, was taxed and insured, was not causing an obstruction and had not been stolen.
As a result, the police did not send anyone to investigate and took no further action.
Mr Penman's body was later found by officers investigating reports of an abandoned articulated lorry.
A post mortem examination revealed Mr Penman had high levels of carbon monoxide in his blood. His death was not suspicious.
Kate Frame, the Police Investigations and Review Commissioner, said it was "unrealistic" to expect officers to attend every report of an abandoned vehicle.
However, she said police at the Bilston Glen control room should have contacted the vehicle's owners.
Timeline of events
Tuesday 13 December 2016
16:30 - A member of the public contacts Police Scotland to report concerns about a van parked in a lay-by on Old Northfield Road, near Dunipace. He saw it parked there the previous Friday and is worried it may be stolen.
Police officer dealing with the incident decides that police are not required to attend and no further inquiries are undertaken.
Wednesday 14 December 2016
A second member of the public contacts police reporting similar concerns.
The report is dealt with by the same police officer who takes no further action.
Thursday 15 December 2016
07:00 - Police receive a report about an articulated lorry with foreign number plates parked in Old Northfield Road for about three days.
11:00 - Officers are sent to investigate but they are unable to find the HGV and search the general area instead.
11:50 - They come across Mr Penman's van and find him slumped in the driver's seat.
If they had, they would have learned of concerns about Mr Penman's depression and welfare.
Ms Frame said: "In this case had the repeated concerns expressed by members of the public been acted on earlier, additional information would have been available which may have prompted officers to locate and search the van in the lay-by sooner.
"While it cannot be determined that if police had acted when the deceased's vehicle was first reported he would have been found alive, there are important lessons to be learned in how police deal with similar incidents in the future."
Assistant Chief Constable Nelson Telfer said: "Our thoughts remain with the family of Mr Penman and all those affected by his death.
"So far, in 2017, Police Scotland has received in excess of 16,000 reports of abandoned vehicles, around 60 every day. The vast majority of these, like Mr Penman's vehicle when checked on our systems are taxed, insured and legally parked.
"Following an internal review of this incident, discussions have taken place with Local Policing, C3 Division and Professional Standards and updated guidance has been issued to call handlers and Area Control Room staff to ensure appropriate actions are taken when dealing with a report of an abandoned vehicle."
In a statement, Mr Penman's family said the report had provided them with "some answers we were looking for".
"David was a loving father, son and brother and it has been very difficult for our family to come to terms with his death," they said.
"We will never know for sure whether David would still be alive if more prompt action had been taken initially but we are pleased to note the recommendations in the report.
"We hope that Police Scotland will take these recommendations on board and that valuable lessons have been learned."
A Scottish government spokesman said: "As part of their January 2017 assurance update, Her Majesty's Inspectorate of Constabulary in Scotland recognised the significant progress made by the service in this area and we expect the Scottish Police Authority to continue to effectively monitor performance moving forward.
"Police Scotland have made clear they will carefully consider the findings of the Police Investigations and Review Commissioner investigation, taking further action where necessary."
Scottish Conservative justice spokesman Liam Kerr said the case was "frighteningly similar" to the M9 tragedy which claimed the lives of John Yuill and Lamara Bell.
"The leadership of Police Scotland needs to spend less time fighting with itself and more time giving support to hardworking officers and ACR staff who just want to get on with the job," he said.
Liberal Democrat MSP Liam McArthur said the police response raised a number of serious questions.
He said: "Why were frontline officers unable to provide a scheduled response on two occasions and why did a later request to attend an incident within 15 minutes take four hours? Was this because of a lack of frontline resources?"