Dubai indecency accused's jail term for drinking alcohol and 'rude gesture'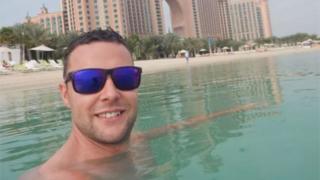 A Scot accused of public indecency in Dubai has been sentenced to a month in jail for drinking alcohol in the country and "making a rude gesture".
Jamie Harron, 27, from Stirling, said he was trying to avoid spilling his drink when he put his hand on a man's hip in a crowded bar.
In addition to the prison sentence he has been fined 2,000 dirhams (£412) and will be deported.
Mr Harron will appear in court over the public indecency charge on 22 October.
He faces a three-year jail sentence if he is found guilty.
Radha Stirling from the campaign group Detained in Dubai said: "The first case was for brushing past the man and the second includes allegations of a rude gesture and drinking alcohol.
"The first case has not been heard yet and the second was heard in absentia.
"In his absence, he was sentenced to 30 days in prison for the rude gesture, a 2,000 dirham fine and deportation."
Denies allegations
Ms Stirling said Mr Harron is not currently in custody and his legal team will appeal against the sentence.
She said: "Jamie adamantly denies the allegations of a rude gesture and of indecent behaviour but admits drinking alcohol.
"We spoke with Jamie today who is frustrated that cases have been separated.
"(He said) if they are separated, it means I could be here for longer.
"Apparently, I was sentenced for raising my finger at the man but I did not do that. I wouldn't do that."
Mr Harron, who worked as an electrician in Afghanistan, was on a two-day stopover in the United Arab Emirates at the time of the incident on 15 July.
The Foreign and Commonwealth Office said it was providing consular assistance on the matter.