Architect's Dundee V&A vision nears completion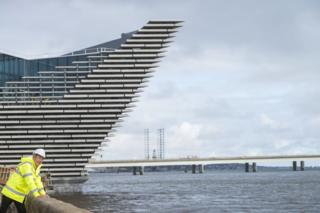 The architect of Dundee's V&A Museum said that he is "delighted and satisfied" at the progress of the £80.1m construction project.
Kengo Kuma saw the finished exterior for the first time during a visit to the city.
Mr Kuma's design, which sees the building jutting over the River Tay, was inspired by the cliffs of Scotland's north-east coast.
Construction of the building will be completed by the end of December.
The museum, which has been under construction since March 2015, is due to open next summer.
Mr Kuma said: "The realisation of the strong façade is great. We were able to express the dynamic scale of the interior, too - just as we had planned."
The architect, who also designed the Tokyo 2020 Olympic stadium, said his inspiration "always starts" in the country where the project will be.
He said: "In the past I visited Scotland many times, this very beautiful country, and I'm truly in love with the Scottish landscape and nature.
"I really hope, once finished, this project will attract many people from the UK, and around the world, to the city and the museum.
"I hope as well that people from Dundee will use it as an everyday part of their city; that they will go there to enjoy the building with its surrounding public space and find a harmonious relationship between the museum, the riverside, the city and themselves."
V&A Dundee director Philip Long said: "It is a real pleasure to have the architect of V&A Dundee, Kengo Kuma, with us today to see the incredible progress that has been made in bringing his vision to life.
"Everyone working on the design and construction should be incredibly proud of what they've achieved."
Construction facts
18.4m (60 ft) tall at its highest point
2,466 cast stone panels hung on the walls, creating the appearance of a cliff face
The cast stone panels are made in moulds, weigh up to 3,000kg each and span up to 4m
12,500 tonnes of stone used to build cofferdam in the River Tay
21 separate wall sections with no straight external walls
Over 50% of construction staff are from within 35 miles of the site
30 200-metre deep geothermal bore holes provide heating and cooling for the building.