NHS suspends operations over Christmas and new year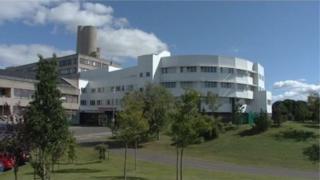 NHS Tayside has put on hold all planned, non-urgent operations for three weeks over the festive period.
The health board said emergency surgery, urgent procedures and all cancer surgeries would still be carried out.
But there will be a "step-down of all planned procedures" at Perth Royal Infirmary, Ninewells Hospital in Dundee and Stracathro Hospital, near Brechin.
The disruption will last from 18 December to 8 January 2018.
A spokeswoman for NHS Tayside said every winter the health board - along with all other boards - saw an increase in "unplanned admissions", which meant planned treatments often had to be cancelled at short notice.
Funding gap
She added: "Procedures which have been planned to go ahead are often cancelled by patients at the last minute as they feel they are unable to come in over the festive period.
"Therefore, our annual winter plan for this year includes a three-week step-down of non-urgent, elective procedures from Monday, 18 December 2017 to Monday, 8 January 2018 across our three surgical sites - Ninewells Hospital, Perth Royal Infirmary and Stracathro Hospital."
Earlier this month a report by public spending watchdogs at Audit Scotland warned NHS Tayside faced a funding gap of almost £50m this year as financial difficulties continue.
In June, NHS Scotland chief executive Paul Gray announced a team of troubleshooters was being sent in to help the board after an independent report called into question its five-year transformation programme.
The independent advisory group, led by Professor Sir Lewis Ritchie, noted that NHS Tayside has been unable to operate within its financial resources for the last five years and was unlikely to return to financial balance over the next five.