Couple spared jail for £60,000 theft from elderly relative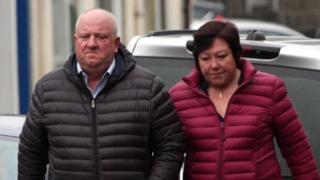 An Alloa couple who stole £60,000 from a relative's bank accounts have avoided prison sentences after their victim asked a sheriff not to jail them.
Former police officers Andrew and Jean Rough took the money from Mr Rough's mother Gladys over the course of almost five years.
They claimed she told them to spend her money freely, but Mrs Rough said it was only to use "if they were stuck".
The couple, both 58, were each ordered to carry out 300 hours of unpaid work.
They were also told to pay £24,000 back to Mrs Rough, who is now 86, and were banned from contacting her for three years.
The couple were found guilty after a trial at Stirling Sheriff Court.
'Cash machine'
The court was told that the duo used Mrs Rough "like a cash machine" and spent the money on mortgage repayments and hunting and fishing supplies.
They also spent up to £700 a month on groceries in what the prosecution described as "their version of Supermarket Sweep."
The jury heard that the withdrawals began after Mrs Rough's husband was taken to hospital with a stroke.
Mrs Rough gave her son and daughter-in-law her bank cards to do her £30 weekly shop, and to pay her gardener and cleaner.
She also gave them power of attorney and handed over her bank statements to them unopened.
'Cavalier behaviour'
From September 2010 until July 2015 the couple took up to £12,000 a year and finally ran one account down to 37p, causing a direct debit to bounce and the pensioner's phone to be cut off.
Police were called in by social workers after this caused Gladys Rough's panic alarm to stop working.
Sheriff William Gilchrist told the couple: "A prison sentence effectively excludes any realistic prospect of compensation, and I think that's an important feature of what must happen.
"The jury clearly rejected your defence that you had Mrs Rough's consent to spend her money, but I think it likely that if you had sought her consent then she would have granted it, for at least some of the expenditure."
Sheriff Gilchrist said the psychological impact on Mrs Rough of the couple's "cavalier" behaviour had been considerable.
He said: "I'm conscious that she did state that she did not want to see you go to prison.
"That is another factor I have taken into account."