Charges dropped against Scot accused of public indecency in Dubai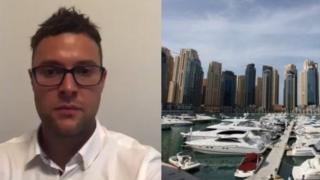 A Scottish man accused of public indecency in Dubai has had the charges against him dropped after the ruler of the Emirate of Dubai intervened.
Jamie Harron, 27, from Stirling, had been sentenced to three months in jail for touching a man's hip in a bar.
Detained in Dubai, the group representing Mr Harron, said he had been exonerated by Sheikh Mohammed bin Rashid al-Maktoum.
It said Mr Harron had his passport returned and is free to leave Dubai.
Mr Harron's mother Patricia declined to be interviewed, but told BBC Scotland that the family were "ecstatic" at the news.
Mr Harron had also been accused of drinking alcohol and making a rude gesture towards the businessman who made the complaint.
Detained in Dubai spokeswoman Radha Stirling said: "The cases against him have been dismissed, and the sentence imposed by the court yesterday has been nullified.
"We wish to express our deepest gratitude to Sheikh Mohammed for his personal intervention in this case, and for exonerating Jamie at long last.
"It has now been established that the allegations against Jamie were entirely unwarranted, defamatory, and meritless."
Civil action
Ms Stirling said Mr Harron was now considering a civil action against the businessman and his employers.
Mr Harron was arrested in July and charged with public indecency.
He claimed he had simply been trying to avoid spilling his drink when he touched the man.
The man who made the complaint against Mr Harron later withdrew it, but prosecutors in Dubai continued with the case.
Mr Harron, who worked as an electrician in Afghanistan, was on a two-day stopover in the United Arab Emirates at the time of the incident.
He said he lost his job and has spent more than £30,000 in expenses and legal fees as a result of the case.