A9 death crash van driver 'possibly asleep' at wheel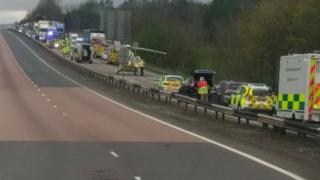 A man who killed another driver after his van crashed into a queue of traffic told police he "possibly was asleep" at the time.
Ion Rusu, 41, admitted causing the death of 25-year-old Marek Majewski by dangerous driving on 20 April on the A9, south of Dunblane.
Self-employed courier driver Rusu told officers that his job required him to drive for up to 14 hours at a time.
He will be sentenced at the High Court in Edinburgh on 29 November.
The High Court in Glasgow was told that Rusu's van crashed into Mr Majewski's Honda Civic, which was then shunted into the back of a lorry.
Mr Majewski died at the scene of the collision.
The driver of the lorry and a 26-year-old female passenger in Mr Majewski's Honda Civic also suffered serious injuries in the crash.
No evasive action
The court was told Mr Majewski, who was on his way to Glasgow Airport to pick up friends, was pinned to the steering wheel by the force of the impact and trapped.
Rusu was found in his van unconscious and slumped over the steering wheel.
A GPS tracking device fitted in Rusu's van showed that it was travelling at 48mph at the time of impact.
Investigators found no evidence that Rusu had tried to brake or carry out an evasive action prior to the crash.
Prosecutor Michael Meehan said that Rusu was extremely upset when police told him Mr Majewski had died.
Mr Meehan said: "He told officers he no longer held a tenancy in London and had been sleeping in his van for a couple of months.
"He stated that he had possibly been sleeping at the time of the collision as his job required him to drive for up to 14 hours at a stretch."
Judge Graeme Buchanan deferred sentence for background reports on Rusu and remanded him in custody.