Dubai indecency accused Jamie Harron back in Scotland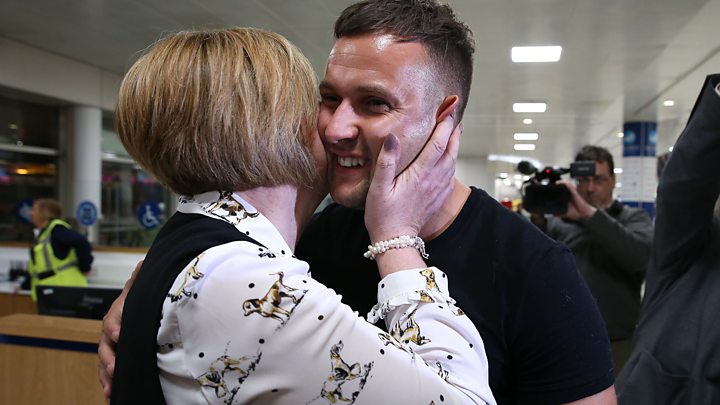 A Scot who faced three months in jail after being found guilty of public indecency in Dubai has arrived back in Glasgow.
Jamie Harron, 27, from Stirling, was allowed home after being exonerated by the ruler of the Emirate of Dubai.
Speaking at Glasgow Airport, he described his ordeal as "a shambles".
After spending three and a half months awaiting the outcome of the case he said there was a point when he "didn't see light at the end of the tunnel".
Mr Harron had been sentenced to three months in jail for touching a man's hip in a bar.
He claimed he had simply been trying to avoid spilling his drink when he touched the man.
He had also been accused of drinking alcohol and making a rude gesture towards the businessman who made the complaint.
The charges against him were dropped following the intervention of Sheikh Mohammed bin Rashid al-Maktoum.
Mr Harron was greeted by family members at Glasgow airport on Tuesday night, and his sister Jordan later posted a picture of them together on her Facebook page, saying 'Reunited at last'.
He said: "The whole thing is a shambles. There was no organisation or anything.
"I think I've just been caught up in a bad situation. The man had a power trip.
"I still can't believe it actually happened but I kept positive all the way through."
He praised the organisation Detained in Dubai which campaigned to get him freed.
"They've done very well. They've helped me a lot," he said.
But he admitted he had lost £30,000 fighting the case, as well as his job.
'Good sleep'
Despite his ordeal, Mr Harron said he would go back to Dubai.
"I'm not going back in a hurry but I would go if I was going back through for work because the sheik has cleared everything for me." he said.
He added: "I'm looking forward to a good sleep in my bed. I've been sleeping on my mate's couch for the last three and a half months."
Mr Harron is understood to be considering a civil action against the businessman who made the complaint and his employers.
Mr Harron was arrested in July and charged with public indecency.
The man who made the complaint against Mr Harron later withdrew it, but prosecutors in Dubai continued with the case.
Mr Harron, who worked as an electrician in Afghanistan, was on a two-day stopover in the United Arab Emirates at the time of the incident.