Teenager admits £30,000 rooftop stand-off wrecking spree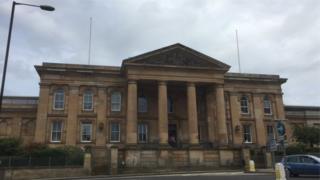 A teenager caused £30,000 worth of damage during a seven-hour rooftop standoff with police in Angus, a court was told.
The 15-year-old and another boy sparked the incident, which saw almost 30 police officers including negotiators, called to the scene at a secure unit.
The teenager admitted assaulting a police officer and committing culpable and reckless conduct in February this year.
He will be sentenced in January.
Dundee Sheriff Court was told that the day before the attack the boy had been told he would be leaving the unit on his 16th birthday due to his "aggressive and violent" behaviour.
He then told his family he was "upping the ante" in an attempt to get a custodial sentence.
Police were called after he made threats to staff, resulting in him punching an officer.
'Spree of vandalism'
The following day, another teenager, who was previously prosecuted over the incident, stole a staff member's pass and used it to release the accused from his locked room,
Depute fiscal Vicki Bell told the court: "Both boys then embarked on a spree of vandalism destroying property within the buildings including six doors, one window and two photocopiers.
"Both then armed themselves with scaffolding poles which they used to force open doors and make their way through the building, presumed to be in an attempt to break free."
Miss Bell said both boys then climbed on to the roof and threw slates and debris at police vehicles and staff members' cars below.
She said: "Fire and ambulance attended to provide assistance via a high aerial platform used to allow a visual perspective of where the accused were.
"A negotiation co-ordinator and two negotiators were brought to commence dialogue with the boys.
"Both continued to throw slates off the roof towards police, but no-one was struck."
The teenagers agreed to come down after seven hours on the roof and were arrested.
Sheriff Alastair Carmichael deferred sentence and continued the teenager's bail.