Single card pilot for Scottish libraries launched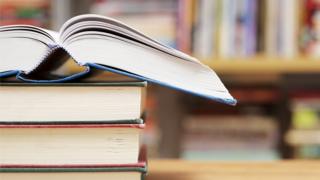 A pilot scheme for a single card that can be used in any Scottish library has been launched.
Five councils are taking part in the scheme, which will be rolled out to the whole of Scotland if successful.
One Card aims to encourage greater access to libraries by removing barriers between services and gives access to more than 120 libraries and 1.6 million books.
It was launched in Aberdeen by Culture Secretary Fiona Hyslop.
The pilot has been supported by £15,000 from the Scottish government's Public Library Improvement Fund.
It will run for six months across the Aberdeen, Aberdeenshire, Angus, Highland, and Perth and Kinross council areas.
'Empower communities'
Ms Hyslop said: "If successful, this pilot will pave the way for a national library card, which will make it easier for people to take advantage of library services wherever they are in Scotland.
"As well as traditional services like book lending, libraries are also places where people can access free wi-fi, use a computer and socialise.
"Libraries can empower communities, helping tackle inequality, reduce isolation and boost the local economy."
Pamela Tulloch, chief executive of Scottish Library and Information Council, said: "One of the fundamental defining characteristics of public libraries is that they are open to everyone.
"No-one is turned away from a library, there is no joining fee, and anyone can use a library and its services, regardless of age and background.
"The One Card pilot will further improve access by removing barriers between services, and will hopefully encouraging more people to take advantage of our public library service."