Comic series draws attention to common conditions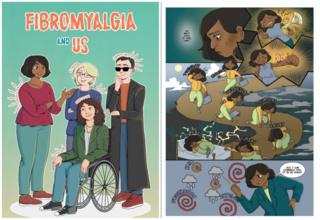 A series of comics explaining common but poorly understood health conditions is being launched in Dundee.
Writers, artists and health professionals from Dundee University and NHS Tayside are taking part in the project.
The first edition of the comic, called Fibromyalgia and Us, will be published on Friday.
The comic explores the effects of the long-term condition in an attempt to better explain it to the public.
Future editions are planned on heart disease, organ donation and autism.
Fibromyalgia can cause widespread pain, increased pain sensitivity, fatigue, muscle stiffness, and memory and concentration problems.
'Inspiring collaborators'
Prof Divya Jindal-Snape said: "This comic has been designed with the purpose of raising awareness of fibromyalgia amongst professionals, families, and communities.
"It illustrates the ongoing life transitions of those who have fibromyalgia as well as its impact on significant others."
The artists involved in the project are Elliot Balson, Zu Dominak, Damon Herd, Rebecca Horner, Ashling Larkin, Norrie Millar, Helen Robinson, and Letty Wilson.
The title will be launched at the Dundee Comics Creative Space, which opened last year.
Dundee University's Prof Chris Murray, the world's first professor in Comic Studies, said: "All of these educational comics tell first-hand experiences of these conditions by our brave and inspiring collaborators.
"Previously, we've done short comics about disability hate crime in partnership with Advocating Together in Dundee as well as a comic on surviving childhood cancer called Batman Danny."