Hotel's shock at £80,000 superfast broadband quote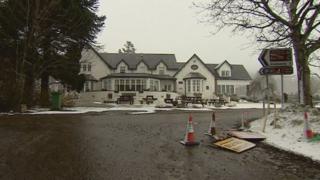 A rural Angus hotel has been told it would cost £80,000 to install a superfast broadband internet connection.
The Glen Clova Hotel's current internet service runs at about 0.5mbps.
Openreach said the five-figure quote was for a 100mbps connection, which it described as "the Rolls Royce of business connectivity solutions."
Lesley McArthur, who is a partner in the hotel, said their internet access was "almost non-existent".
She said: "You only need to look at our TripAdvisor reviews to see that people are constantly saying the wi-fi was limiting.
"As soon as more than one person connects to the wi-fi at the hotel, it just completely eradicates the speed of the internet completely."
Ms McArthur said the poor internet connection hampered efforts to promote the hotel online.
She said: "We are pretty much at a dead end at the moment unless we are prepared to fork out tens of thousands of pounds
"We are about 5km from the exchange in Glen Clova and this would give us a leased line from the exchange.
"This would be our own private line as such from the exchange to the hotel.
"This is one of the only ways we would be able to secure a proper internet connection or a decent speed internet connection at the hotel."
Significant costs
An Openreach spokeswoman said the company was asked to provide a quote for a "new, dedicated business-grade ethernet connection at a speed of 100Mbps."
She said: "This is the Rolls Royce of business connectivity solutions, typically used by businesses with very high bandwidth needs.
"The costs of delivering such a service in a remote location, which are regulated, are significant, mainly because of the amount of civil engineering required to lay new duct and cable over several kilometres.
"Openreach surveyed the site twice to see how costs could be reduced and the quote provided was on the basis of the hotel digging in around 3.8kms of duct on their own land."
The company said it was happy work with the hotel to "look at other solutions that could help the wider community, not only the hotel."
The Scottish government has pledged to deliver superfast broadband access to 100% of premises in Scotland by 2021.
A spokeswoman said the Glen Clova case was a commercial matter between the hotel and Openreach, but that it was "exactly the sort of issue which will be resolved through our ambitious R100 programme."