MSP calls for change in private parking law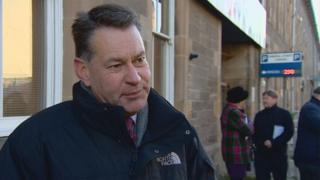 An MSP has launched a consultation on proposed legislation to clarify the law in Scotland over privately-operated car parks.
Murdo Fraser said he has received hundreds of complaints about private parking penalty notices.
The Conservative MSP hopes to introduce a Member's Bill in the Scottish Parliament to provide "greater consistency and transparency".
The consultation will last for three months.
The proposed bill has been welcomed by the British Parking Association (BPA).
Parking tickets issued by private companies are different from Penalty Charge Notices issued by council traffic wardens and the police.
Penalty Charge Notices are regulated fines backed by legislation.
Failing to pay a private parking notice can be seen as a breach of contract and the car parking firm can take the motorist to court to recover their losses.
Earlier this year a Dundee sheriff ordered a woman to pay a private parking company £24,500 in unpaid charges.
Mr Fraser's proposed Bill would introduce a "reasonable" maximum charge for breaching rules in a privately run car park and introduce clearly set out uniform signage.
It proposes invoices that are distinct from official police and council parking penalty notices.
The proposed legislation would also introduce a fully independent appeals system for Scotland.
Drivers in Scotland currently appeal a private parking notice by contacting the car park operator.
Popla, an independent appeals services for parking charge notices issued on private land, has operated in England and Wales since 2012.
'Unclear and inconsistent'
Mr Fraser said: "There is a great deal of confusion over where the law in Scotland currently stands in relation to privately-operated car parks.
"It is something of an urban myth that private penalty notices are not enforceable.
"But, at the same time, it seems very unlikely that penalty notices of £160 would ever be held to be reasonable in a Scottish court.
"It is precisely because the current law is unclear and inconsistent that I believe there is a greater need for regulation of private car parking in Scotland."
British Parking Association chief executive Andrew Pester said: "The BPA has been working closely with the Scottish government, calling for a common code of practice which is good for the motorist and the sector."