Medieval secrets uncovered in cemetery excavation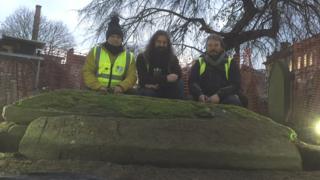 A medieval burial marker uncovered in a Dundee graveyard has been described by an archaeologist as a mystery that keeps "giving and giving".
The marker, believed to date from the 12th or 13th Century, was discovered in July during a survey of about 1,800 stones in Dundee Howff cemetery.
The Howff was established as a burial ground in 1564, but was previously the site of a Franciscan monastery.
A two-day excavation of the stone has also uncovered medieval pottery.
The stone has been reused and features two inscriptions, one from 1770 and fragments of an earlier engraving from 1603.
Andy Finlay, secretary of Dundee Howff Conservation Group: "The stone was heavily covered in moss and it requires a specialist stone conservationist to remove that.
"The moss itself can cause problems for the stones because it retains a lot of moisture.
"The inscriptions there have just come out so beautifully, what remains of them."
The 1603 inscription was created by David Lindsay for his wife Christian Rutherford.
Lindsay was a former Grammar School master in Dundee who later became Bishop of Edinburgh and crowned Charles I as King of Scots in 1633.
Dr Oliver O'Grady, archaeologist at OJT Heritage, who was commissioned by the conservation group, said there were "a few mysteries at play."
He said: "The Howff was founded by Mary Queen of Scots by a grant in the 1560s.
"Before that the site was a Franciscan monastery, the Greyfriars, on which the graveyard was developed.
"There are a number of possibilities. This stone may have come from the church of the Franciscan monastery.
"It may have been part of a burial aisle in that monument or it could have come from one of the other historic churches in Dundee."
The July survey was part of a project to create the first detailed map of the site and investigate the histories behind individual headstones.
Dr O'Grady said: "We know the stone has been reused on a number of occasions because there were some really nice detailed records taken in the 19th Century.
"In the 1830s Thomson produced his "Book of the Houff" and he recorded the stone.
"It tells us there's an inscription from 1770 on it, the Ferguson family, but also an earlier one from 1603, which we've also found fragments of.
"That's great, because some of the people that are mentioned in these inscriptions are quite important."
Small medieval pottery fragments have also been archived by the excavation team,
Dr O'Grady said: "These can date from the 12th to the 14th or 15th Century.
"It's another little reminder that we are on the edge of where the city walls of one of Scotland's great medieval boroughs were, or also perhaps indications of the Franciscan monastery itself."
Dr O'Grady said that although the excavation had created "a great deal of excitement" it has been carried out in a "measured way."
He said: "As you might expect within a graveyard, there are fragments of bone present.
"We are treating those appropriately - we have have to remember we are within sanctified ground.
"What was quite a somewhat random event whilst we were surveying has taken us on a journey with the team into a very fascinating story.
"Unbelievably, this mystery just keeps giving and giving."