Man threatened to stab neighbour in row over dog fouling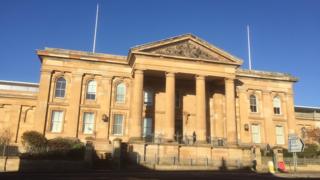 A man who brandished a knife at his neighbour after accusing him of failing to clean up after his dog has been jailed for 16 months.
Joshua Reid threatened to stab the man after seeing dog dirt on the pavement outside their block of flats in Dundee.
A court heard Reid pulled a knife on the man when he refused to pick up the mess.
Reid, 22, admitted behaving in a threatening and abusive manner on 27 September this year.
Depute fiscal Eilidh Robertson told Dundee Sheriff Court: "The accused and his partner were at a friend's flat when he said he saw a neighbour, presumably the complainer, allow his dog to defecate without picking it up after.
"The accused left the friend's home and said he was going to speak to the complainer about this incident.
"He went to the door and asked the complainer to come outside.
"Once outside the accused pointed to the faeces and told the complainer he had not picked it up."
Miss Robertson said Reid became aggressive and threatened to stab the neighbour.
She said: "The accused pulled out a kitchen knife with a five to eight-inch-long blade.
"He said 'Do you think you're tough enough, I'll do you in.'
"The complainer ran in to his house and called police."
Defence solicitor Katrina Clark said: "His conduct was utterly unacceptable and disproportionate to the issues he had with the complainer.
Sheriff Alastair Brown told Reid: "Threatening someone with a knife, whilst not as serious as actually striking them with it, is a very serious thing to do."