Man stabbed former partner after asking for "one last hug"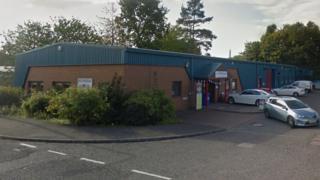 A man stabbed his partner after asking her for "one last hug" when she ended their seven-year relationship, a court heard.
Gordon Ayre, 54, repeatedly plunged a knife into Mariana Mreana's breast and abdomen in the Dundee wallpaper shop where they worked.
The High Court in Edinburgh was told Ms Mreana was left permanently scarred.
Ayre admitted assault to severe injury, permanent disfigurement and danger of life on 2 August.
He also admitted breaching a bail condition by sending Ms Mreana text messages on 24 August.
The court was told the couple worked together at the Select Wallpaper store in Ainslie Street.
Ms Mreana was wearing eight layers of clothing at the time of the assault as she did not want to go home with Ayre to collect her belongings.
'Suicidal disposition'
Prosecution lawyer Sean Smith QC told the court that toward the end of the working day, Ms Mreana had told Ayre their relationship was over.
Mr Smith said: "The accused asked the complainer for one last hug, before striking her repeatedly on the body with a knife penetrating her breast and abdomen.
"The complainer attempted to defend herself pleading with the accused to stop.
"However, the accused continued the attack and had to be pulled off the complainer by others.
"Thereafter, the accused repeatedly struck himself on the body with the knife."
The court was told that Ayre ran away, but returned shortly afterwards and surrendered to police.
After being charged, Ayre was bailed with a condition not to contact Ms Mreana.
However, Ayre sent his former partner two text messages which were "apologetic and indicative of a suicidal disposition".
Mr Smith said: "Following receipt of the text messages, the complainer immediately contacted the police.
"Officers attended the accused's home address where he was found lying on his bed with three puncture wounds to his stomach.
"The accused was conveyed by ambulance to Ninewells Hospital where he was treated."
Judge Lord Woolman deferred sentence until 11 January for reports.