Pensioners 'utterly overwhelmed' by Callander gas explosion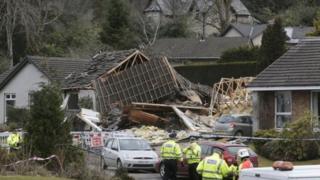 A woman has told a trial how a gas explosion that destroyed her elderly parents' home while they were inside had "utterly overwhelmed" the couple.
Craig Hall is accused of failing to properly install a boiler at Robin and Marion Cunningham's house in Callander, Perthshire, in March 2013.
Lynn Cunningham said her parents Mr and Mrs Cunnhingham, now 81 and 79, "became dependent overnight" after the blast.
Mr Hall, 35, denies the charge.
Prosecutors allege he failed to ensure that a gas pipe was properly supported when he fitted the equipment eight months earlier.
As a consequence, it is alleged, the supply pipe separated from an inlet pipe, to which it should have been joined, allowing gas to escape and ignite.
Mr and Mrs Cunningham were rescued from the rubble by firefighters, and nine nearby houses had to be evacuated.
Ms Cunningham, 56, told Stirling Sheriff Court that her mother had been left "frail and very anxious" by what happened, while her father's Parkinson's disease had "obviously progressed".
She said that before the explosion she had visited her parents once a fortnight, but now visited them every day.
Ms Cunningham said her parents had previously led "quite quiet, routine lives."
She said: "I would say they were utterly overwhelmed, and they actually didn't have the ability to put their lives back together again. It was too much.
"When you're in your 70s and everything that's familiar suddenly disappears.
"I remember thinking that they'd get back some of their sense of responsibility and independence, but they didn't.
"They became dependent overnight."
'Smell of gas'
Ms Cunningham said that the night before the explosion she had walked past her parents' home and "smelled something" which she realised "with hindsight" might have been gas.
She said: "If I'd thought it was gas, I'd have done something about it.
"Obviously I deeply regret that.
"It was just in the air, a strange smell."
The court also heard from one of the first police officers on the scene, PC Neil McLaren.
He said a neighbour who he spoke to indicated that there had been "a smell of gas in the area for days or weeks".
The trial, before Sheriff William Gilchrist, continues.