Two dismissed at Arbroath lifeboat station following RNLI investigation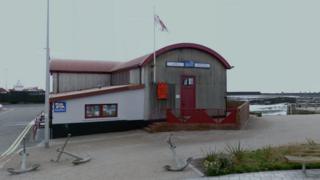 Two volunteer crew members at Arbroath Lifeboat Station have been dismissed and another has resigned following an RNLI investigation.
Arbroath's all-weather lifeboat was taken out of service earlier this month when the probe was launched.
The inshore lifeboat remains in service and all-weather cover is being provided by Montrose and Broughty Ferry.
It is understood the investigation relates to an alleged incident outwith the station.
The RNLI said the two crew members had the right to appeal their dismissals.
It refused to release further details of the investigation or name the former crew members.
An RNLI spokesman said: "Following an investigation into a serious incident of misconduct at Arbroath Lifeboat Station, two volunteer crew members have been permanently stood down with immediate effect and one has resigned from the crew.
"The majority of the crew are still on call 24/7 and we are proud of the way they have conducted themselves during a difficult time, demonstrating the RNLI's values of selflessness, dependability, trustworthiness and courage.
"They have kept the inshore lifeboat on service and are working hard to get the all-weather lifeboat back on service as soon as possible."